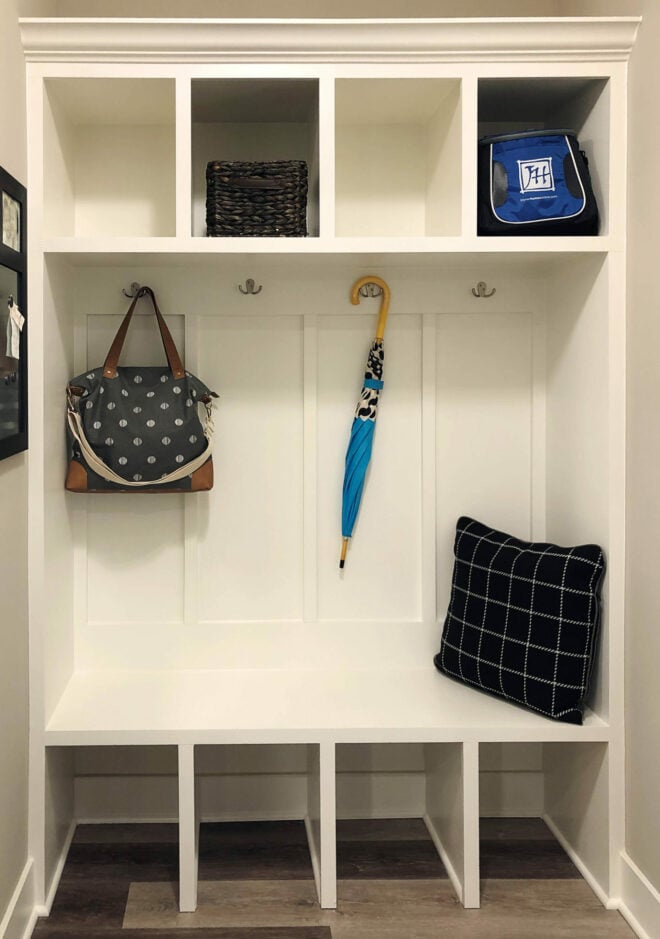 Have you ever walked into your home and thought that you just really need a spot for everyone to put their things? The shoes. The coats. The bags. Do not belong on the kitchen table. They do not belong on the floor. As many times as I tell my kids, there are two of them that just refuse to put their daily items up when walking in the door. We all know what comes later …. "Mom, where is my …. (bag, coat, shoes, etc etc etc)"
If I ever build a home, I will have either a mudroom dedicated to this, or at least storage along a wall at the entrance. I like this idea more than a coat closet, because it keeps things separated (perfect if you have kids that bicker) and it's a lazy, but convenient way, to get things out of the way. Storage is key to keeping a home free of clutter. Clutter creates chaos, for me, at least. Chaos creates stress. I stand by the idea that as long as everything has a place, everyone's life is easier. I will keep stressing to my kids — put your things in their spot, and then we don't have a frantic morning looking for items. It's too easy!
Whether gathering ideas to build a home or remodel, consider all options that will increase functionality of your space. You could combine your laundry room with your mudroom. You could combine the storage of a mudroom with bench seating and a space to hang out or do crafts. This all depends on the amount of room you have available to work with and what you intend to do with your space.
Need inspiration? Click the links below for lots of great ideas, no matter how much room you have to work with.
Almost all Joyner Homes floorplans come with cubbies upon entry from the garage. Check out our floorplans to see which one works best for you. Also see some updated photos on our Where We Build Page …. Get in there and explore our neighborhoods – Summerset, McKenzie Glen, and The Ridges Over Brandywine. Also, be sure to check out some of our custom homes! Are you ready to get started!? Fill out our customer worksheet and we'll be in touch!