We are based in Hancock County, Indiana with our home office located in Historic Downtown Greenfield.We build many of our homes here in Hancock County. We can build in most subdivisions or on your own plot of land.
Outside of Hancock County, we build in Western Henry County, Northern Shelby County, Southern Hamilton County, and Rush County. Also now building in Fortville, New Palestine, Pendleton, and Franklin Township.
Not sure where to start or what is available? We can help with that too!
This map shows subdivisions in the area where you can find some of the homes we've built or places we can build.
For more information on any of these neighborhoods, contact us!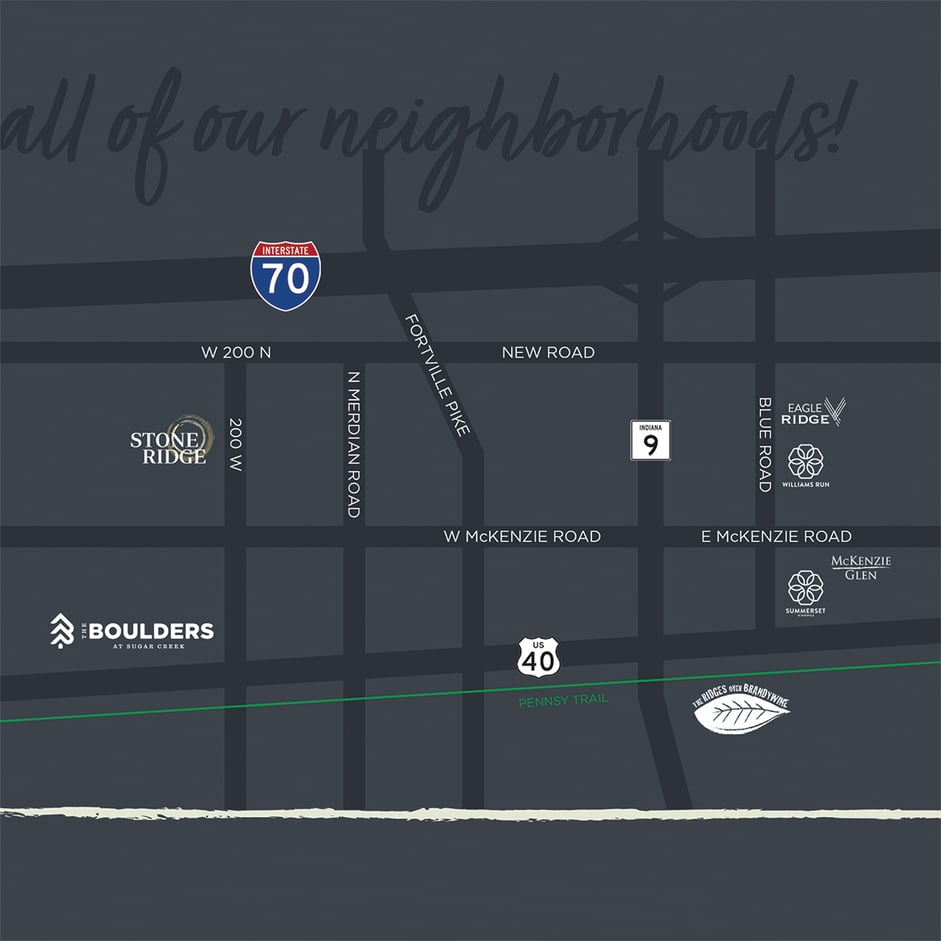 I can't begin to tell you what a great feeling it is to open the patio door and see this wonderful neighborhood on the outside as well. This evening reminded me of another time when friends and neighbors waved, spoke and mingled, because tonight my patio became a convenient place for an informal gathering, conversation and drinks. Not since I was a young girl growing up in a very small Indiana town have I experienced the community spirit we have in Summerset. Our back yards suddenly become alive with friendly greetings, all the while respecting privacy."

Dianne O.

Our experience with Joyner Homes was truly unbelievable. Our closest friends and family warned us of the woes of custom home building, but we couldn't be more thrilled with each step of the journey. Our Superintendent and Interior Designer were the most talented and impressive people you could ever ask for! From the ease of the beginning planning stages to the final touches, we would build with Joyner again in a heartbeat!"

Melanie L.

It was a great experience working with Joyner Homes throughout the entire process. It was especially fun selecting the finishes for our new home. All of our concerns were quickly addressed and resolved. We would recommend Joyner to anyone looking for a great builder."

Dave and Mandy G.

Summerset is THE perfect community filled with delightful neighbors who genuinely care about each other and our neighborhood. Spacing of our homes and lawns lends itself to a distinct environment of closeness without the maintenance of a clubhouse and pool."

Dianne O.