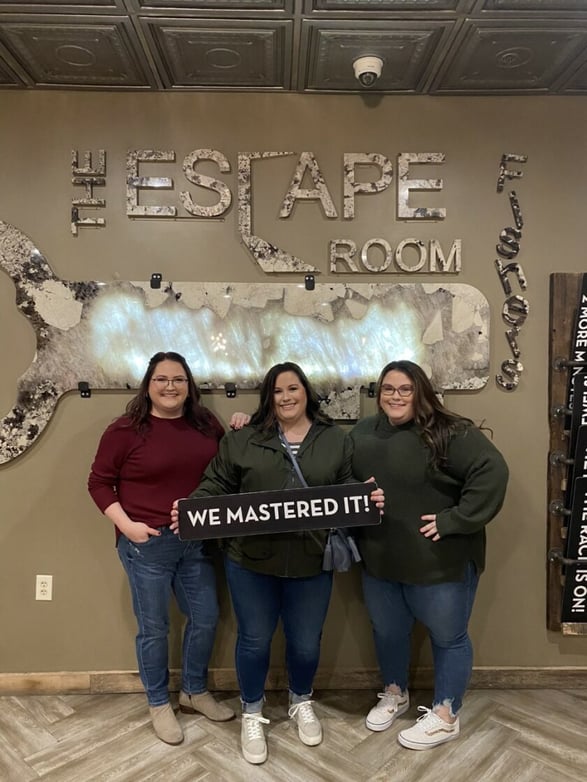 These are the Kennon sisters, who are moving all the way from Florida to build a Joyner Home at Williams Run! As many of us in the office were intrigued by this story, we wanted to dig a little deeper, and see what their story is. I mean, moving from Florida to Indiana without family here, building with your sisters …. it's all very unique. Unique in a good way! So without further ado ….. Here is Part 1 of a 3-Part Series ….
Tell our readers where you currently live. Is it a big city or a smaller town?
We currently live in Clermont, FL. Compared to Orlando it's fairly small, but there's a ton of restaurants, businesses and places to shop.
We've always lived in Florida, we grew up in a small town called Winter Haven. Clermont is a little bigger than that and it's close to Orlando.
We currently live in Clermont, Florida. It's about half an hour in any direction from the theme parks and other Florida staples. The size of the town isn't necessarily a big city, but its population seems to be growing–and getting too crowded for our liking– pretty rapidly!
How did you land on Greenfield as your next home? Do you have family here, know someone here? Did you all unanimously agree, and what factors led you to this decision?
We decided on Greenfield based on the areas we knew Joyner built in. We had only ever visited Indianapolis, Carmel, and Noblesville so we were open to exploring other areas. We visited in October and thought Greenfield was so cute! It has this small town vibe but not so small it feels like you're in the middle of nowhere. My personal requirement was that I had a short drive to a Starbucks! When I saw one only about 5 minutes away from Williams Run, I was sold!
Our father grew up in Missouri and we have family there and in Illinois. So when we visited Indiana it just seemed like home, and Greenfield has the homey vibes and it is close enough to neighboring cities which we liked. A big factor in our move in general was a conversation we had with our parents. They are getting close to retiring and didn't want to build their dream home in Florida if we weren't planning on staying there. Indiana was discussed and our parents did their own research and decided to join us here in a few years.
I feel like our final decision to move to Greenfield was a culmination of a lot of different factors. We have family in Illinois, Kentucky, and Missouri so we've been around Indiana for years visiting family. But none of those states felt like home. We've known we really enjoyed the blend of mid-west and southern hospitality we've felt in those places but nothing quite "clicked" like it did when we made our first trip to Indiana. After visiting the more suburban areas around Indianapolis, we fell in love. We felt so at home here in the Hoosier state, despite being born and bred Florida girls. As far as the town of Greenfield…I think Greenfield really won us over because of Joyner Homes. We knew pretty much immediately after I spoke with Lisa the first time over the phone that Joyner was one of our top choices as far as builders we wanted to work with. After we met in person and toured the model Telluride— we saw the craftsmanship and the personality of the homes in the Boulder neighborhood, that sealed the deal for us!
How did you hear about Joyner Homes? Also, we have several different neighborhoods, how did you land on Williams Run?
Back in our early search for a builder I came across Joyner Homes after Googling "custom home builders in Indiana." I'll be honest, I looked at the webpage and at how amazing the homes looked and quickly left the page. I thought, "There's no way we'd be able to build with them. They're way out of budget!" The homes just seemed too good to be true! Holly came across them again months later and filled out a customer worksheet. Lisa replied back and I was pleasantly surprised when she explained Joyner could work with our budget. She got the ball rolling for us after we met in October. She explained how Williams Run was low maintenance and we immediately loved the idea of not having to mow our lawn or shovel snow.
Joyner Homes just stood out to us because of the details put into each home. When I was looking online there was not one I didn't like! I liked how we have more options to customize our home, because when we built before we had certain options to choose from and not a lot of wiggle room for changes or customizations. Williams Run was more budget and lifestyle friendly!
We'd had initial conversations with other builders and discovered we could actually "afford a lot more home than we thought." After those conversations, we started to look into custom home builders more and…a good old Google Search brought us to Joyner Homes! I filled out the Customer Worksheet and, after some schedule maneuvering, was able to speak to Lisa on the phone. A few weeks later, we planned another trip to Indiana and met with Lisa in person. There was something about Williams Run being a low maintenance community— as Floridians we had a few concerns SNOW being a brand new thing for us to worry about homeownership! So hearing about the snow being taken care of for us was a big factor!
What are you most looking forward to in Williams Run?
I'm looking forward to meeting our neighbors and their dogs!
Most looking forward to getting to live in our home! Aside from that, meeting our neighbors, spending time outside and actually getting to enjoy it without the Florida humidity!
We are so looking forward to meeting all of our new neighbors! Because we don't have extended family here in Indiana, I am really looking forward to building some long lasting relationships with our neighbors both in Williams Run and Eagle Ridge.
Stay tuned for Part Two of this story, where the Kennon sisters discuss the details of the building process while being in another state.
Do you have questions about how to get started with your own Joyner Home? Just fill out a CUSTOMER WORKSHEET to get started right away!