September 21, 2023
POSTED IN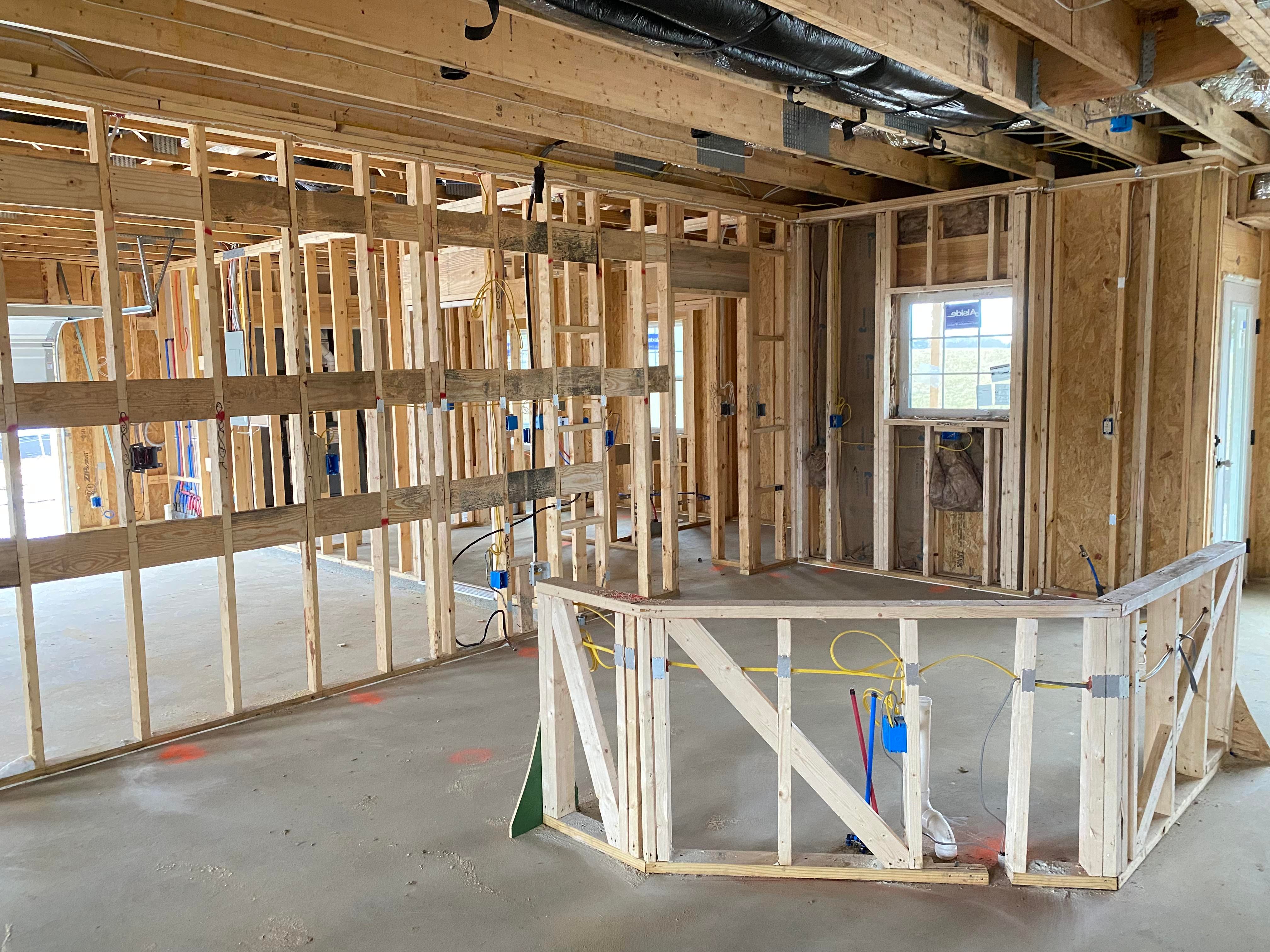 What should I add to my new build home? This is a common question people ask themselves when they are getting ready to build their dream home. When it comes to designing and building your home, the sky really is the limit. Whether you're looking for a modern farmhouse feel or something more traditional, there are endless possibilities when it comes to customizing your space.
Incorporate the latest trends with sleek lines and built-in appliances, add unique touches like exposed wooden beams and brick walls, or add a touch of whimsy with retro-inspired décor. The possibilities are endless when creating the perfect home for your family.
So, what should be included in a custom build if you're interested in staying on top of technology? When it comes to building the future-proof home of your dreams, you'll want to think about incorporating smart technology. Smart thermostats, lights and door locks make your home both convenient and secure. Smart home tech also offers automated solutions for energy efficiency, helping you save money while taking care of the environment.
Create your perfect home with intuitive design elements that fit your lifestyle and personality. The future is all about customization and personalizing your space to make it truly unique - so don't be afraid to think outside the box! 💡🔮
What can we look forward to in terms of technology and new custom homes?
Solar Panels 2.0 : We've already seen the benefits of traditional solar panels, but future tech is taking it to the next level with solar skins. These nifty gadgets have the same energy efficiency, but blend in seamlessly with your roof. No more big bulky panels — just slick, camouflaged energy savers!
Mood-Lighting Walls : Imagine walls that change color depending on your mood or the time of day. Want a calming sea-green to relax into the evening? You got it! In need of a vibrant red to kick your morning into high gear? No problem!
Robot Cleaning : We're not just talking a disk that roams your floor. We're talking fully-integrated home cleaning systems. Windows, floors, and bathrooms — these robots will have your place sparkling in no time!
Indoor Vertical Gardens : These lush, living walls of greenery aren't just a stunning visual feature, but they also improve your home's air quality. Imagine having your own slice of nature indoors, giving your home that fresh, rejuvenating vibe 24/7.
AI-Powered Cooking Appliances : Think of an oven that knows exactly when your chicken is perfectly roasted, or a coffee maker that starts brewing right when your alarm goes off. These smart appliances will turn your kitchen into a chef's paradise!
Personal Wellness Rooms : This future technology could transform any room into a wellness retreat. Need a yoga studio? Done! Want a spa experience? No sweat! It's all about promoting health and well-being right at home.
Interactive Home Gyms : Think virtual trainers, smart equipment that adjusts to your strength levels, and real-time health monitoring. It's like having your very own gym, but just down the hall!
Energy-efficient design isn't just about the tech, it's also about making smart choices that set your custom-built home up for a greener future. And the best part? You're not just doing your bit for the planet, you're also creating a healthier and more comfortable living space for you and your family.
What about an outdoor living space with a fireplace? Yes, please! It's the perfect spot for roasting marshmallows or cozying up with your favorite book. Consider adding a covered patio, outdoor kitchen, or even a pool to really amp up your backyard game.
Outdoor fireplaces turn your backyard into the go-to spot for relaxation and entertainment! They not only provide warmth during cool nights but also create a cozy and intimate ambiance that's perfect for winding down after a long day or entertaining guests. Imagine chilling with your friends on a star-lit night, the crackle of fire in the background, marshmallows roasting, and laughter filling the air. Sounds dreamy, right?
These fireplaces can be built with various materials, like stone, brick, or stucco, to match your home's style. Want to go all out? Opt for a fully equipped outdoor kitchen with a built-in fireplace, perfect for those grill nights! From traditional to modern designs, the choice is yours.
Remember, safety is key. Ensure your outdoor fireplace is adequately ventilated, away from flammable materials, and built to local building codes. Now, all that's left is to pull up a chair, grab a blanket, and enjoy the warmth of your outdoor fireplace. Can you think of a better way to enjoy your backyard? We can't! 🔥🌌👏
Want to read more? Read The Construction of Custom Homes : A Step-by-Step Guide, Typical Ways to Prevent Overspending and Manage Custom Home Expenses, and learn about the hot-topic How Long Does a Custom Home Take to Build?