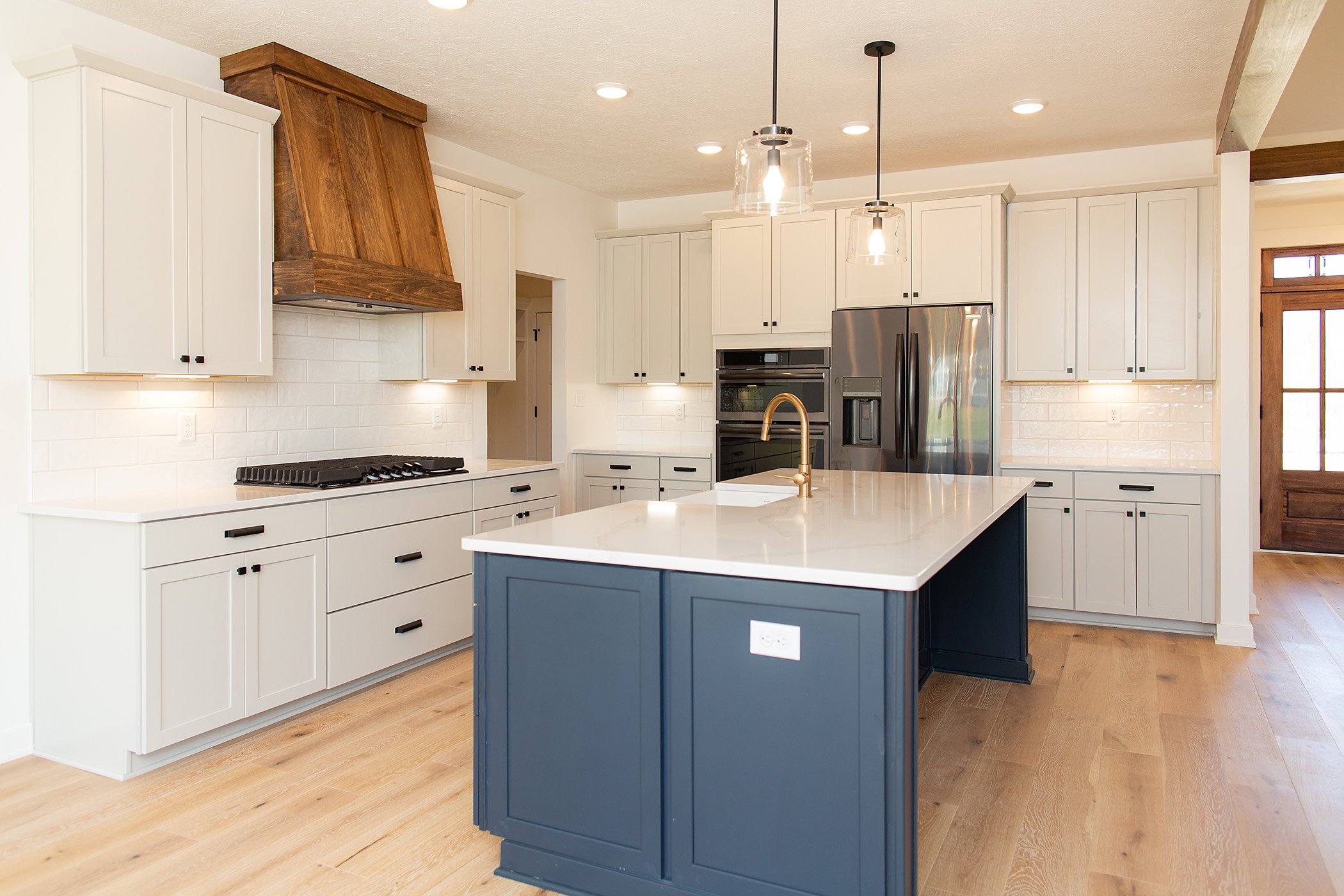 Building your dream home is the ultimate goal for many folks out there. Creating a space that ticks all the boxes and matches your personality is an experience like no other. However, it can be a bit of a challenge to bring this vision to life. We dive into the process of building a custom home in this step-by-step guide, from start to finish.
But first, what exactly makes a home a custom home, and why would you want to build one? Well, it's all about the personal touches and unique features that cater to the owner's specific needs and preferences. From the layout and architectural design to the interior finishes and amenities, every aspect of construction is carefully crafted to reflect the owner's style and functional requirements. It's a collaborative process between the homeowner and a skilled team, resulting in a truly individualized home that embodies their lifestyle. And that's what makes a custom home so special!
Custom homes offer numerous benefits, making them an excellent choice for those seeking a living space that caters to their unique needs and preferences. For one, homeowners have complete personalization of their living space, creating a home that is perfectly tailored to their lifestyle. Additionally, custom homes are often built with high-quality materials, ensuring they will last for many years to come. Homeowners also have greater control over energy-efficient features, which can result in cost savings and a reduced environmental impact. Custom homes maximize space utilization, providing efficient floor plans that promote functionality. Finally, building a custom home instills a sense of pride and satisfaction, as homeowners can witness their vision come to life in a distinctive residence.
Step 1: Define Your Vision
Let's start by defining your vision for your dream home! Take the time to really think about what you want and need - the size, layout, architectural style, and special features that will make your home uniquely yours. Make a list of must-haves and prioritize them, so we can create a solid foundation for the entire construction process. This is where the magic begins!
Step 2: Set Your Budget
Now, let's talk about everyone's favorite topic - money. When building a custom home, it's important to keep your budget in check. Figure out how much you're willing to spend on construction, materials, and finishes. Don't forget about those pesky additional expenses like permits, design fees, and landscaping. If you're feeling lost, don't hesitate to consult with a financial advisor or a custom home builder to create a budget that aligns with your vision. They can help you decide if you can splurge a little on that fancy marble countertop you've been eyeing.
Step 3: Find the Right Location
Okay, okay, let's talk location, location, location! Where do you want to build your dream home? Think about what's important to you - do you need to be close to schools, restaurants, shopping, work, or your favorite yoga studio? Don't forget to check out the lay of the land and make sure it's suitable for building. When in doubt, enlist the help of a real estate agent or land developer who specializes in custom home building. They'll help you find the perfect lot to make your dream home a reality.
Step 4: Obtain Permits and Approvals
Before you can start building your dream home, you'll need to jump through a few hoops (or should we say, obtain a few permits and approvals). Don't worry, your trusty architect and custom home builder will be there to hold your hand and make sure everything is submitted correctly and on time. This part of the process may involve obtaining permits for building, electrical, plumbing, and HVAC systems, among other things. Remember, following local regulations is key to preventing any unwanted delays or legal issues during construction.
Step 5: Select a Custom Home Builder
Picking the right custom home builder is like selecting your partner for life - it's a huge decision! You want to find a builder with a solid reputation, lots of experience in crafting custom homes, and a portfolio that screams "wow!" Request references and check out completed projects to gauge the quality of their workmanship. Working with an experienced architect and designer is key to making your vision a reality. Find experts who have a track record of designing custom homes and share your style. They'll help you navigate pesky local building codes and regulations to ensure compliance.
Step 6: Interior Finishes and Selections
Now, it's time to get to the good stuff - choosing the perfect flooring, cabinets, countertops, fixtures, and appliances! Collaborate with your designer and builder to create an interior that is not only beautiful but also functional and reflects your unique style. Remember to make timely decisions to prevent any unwanted delays. Let's make your dream home a reality!
Step 7: Construction Begins
And now, the fun begins! With the plans, permits, and builder all set, it's time to break ground and get this party started. From site preparation to framing, plumbing to electrical work, insulation to drywall installation, your custom home builder will handle it all with ease. Time to sit back, relax, and watch your dream home come to life!
Step 8: Landscaping and Exterior Finishes
Now that the interior is almost ready for its close-up, it's time to shift focus to the exterior of your custom home. Get creative and work with a landscape architect or designer to whip up a plan for your outdoor spaces, including gardens, hardscaping, and any other outdoor luxuries like a pool or patio. Don't forget to coordinate with your builder to ensure that the landscaping is seamlessly integrated with the construction process.
Step 9: Final Inspections and Walk-through
It's almost time to celebrate! The custom home builder will conduct final inspections to make sure everything is working as it should and meets the high standards you've set. Take a stroll through your new digs with the builder to catch any hiccups or mishaps before the big reveal. This is your chance to iron out any kinks before the keys are handed over.
Step 10: Move-In and Enjoy
It's time to finally move into your dream home, complete with all the bells and whistles you've meticulously designed and built. Pop open the bubbly and start creating some unforgettable memories in your custom-built haven. Don't forget to take a moment to appreciate the exceptional craftsmanship and attention to detail that went into bringing your vision to life. Cheers to the good life!
Building a custom home is a rewarding experience that allows you to create a living space tailored to your unique needs and preferences. By following this step-by-step guide, you can navigate the custom home building process with confidence and turn your dream home into a reality. Remember to collaborate closely with your team of professionals, stay involved throughout the construction process, and make timely decisions to ensure a successful outcome.
Now you know all about the process for building a custom home! Head to our MEET US PAGE to learn more about the Joyner Homes team. Please visit our CONTACT PAGE if you have any questions for us or would like to get started on your own dream home!