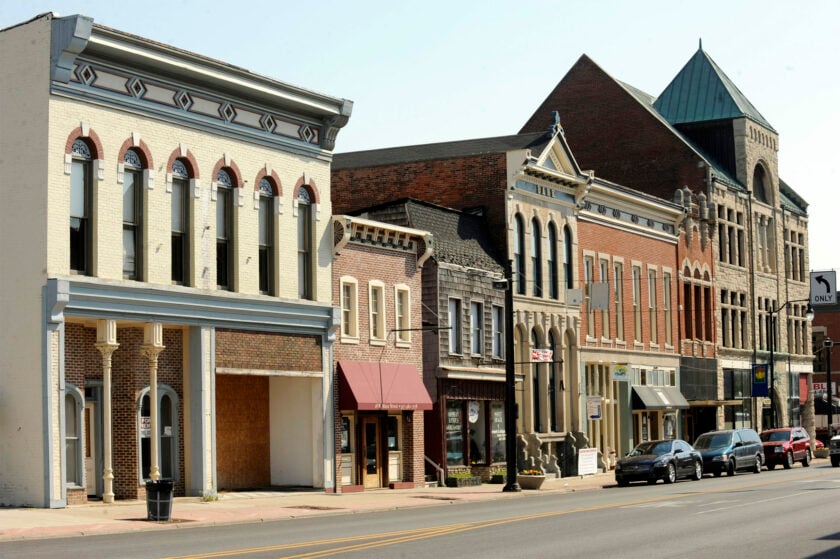 Photo by greenfieldmainstreet.org
It's Monday, and it's spring! Yay …. spring is a time when many folks put their homes up for sale and start looking into new homes or new locations. Whether you're being relocated to Greenfield for work, or maybe you want to get away from the madness of the city, we'll provide some information here that will help you decide if Greenfield is the right place for you.
Greenfield is the great place to build a home. Located along I-70, there are many amenities right here in your backyard, and you are only about a 20 minute drive to Indianapolis, Fortville, and McCordsville, which opens up your shopping and dining options substantially. Hancock Regional Hospital provides big city hospital services for the community. There is a variety of housing available, from apartments to duplexes to single family dwellings, and of course, many options for building your own home. Greenfield Parks and Recreation offers open space and trails and provides diverse programs and recreation opportunities. Riley Pool provides a place for the family to hang out and cool down during the summer, and the Pennsy Trail is available to walking, jogging, and biking year-round.
Click the link HERE to view some statistics for Greenfield, Indiana.
Greenfield is located in Hancock County and has a population of 21,179. The median age is 37, and there are a few more women than men in this great town! There are parks to enjoy and several independent restaurants along with lots of shopping options! The unemployment rate is only 3.3%. More than 90.6% of Greenfield residents have earned high school diplomas or higher, with 20.8% having graduated with a college degree or higher.
Schools to look into if moving to Greenfield : Greenfield Central Community Schools (PK-12) St Michael's Catholic School (PK-8) Academy at Greenfield Park (K-12.) Hancock County offers an out of district transfer option. Learn more about that here. Basically, you can apply to transfer to any of the schools within Hancock County. The statistics in the article referenced that most families choose to send their kids to the school in their home district.
Check out the Chamber of Commerce Page to see what events take place annually.
Whether you're moving to Greenfield soon or considering it, be sure to check out how the process works with Joyner Homes. We have many different floorplans that can work into your family's needs. Contact us with any questions you may have!