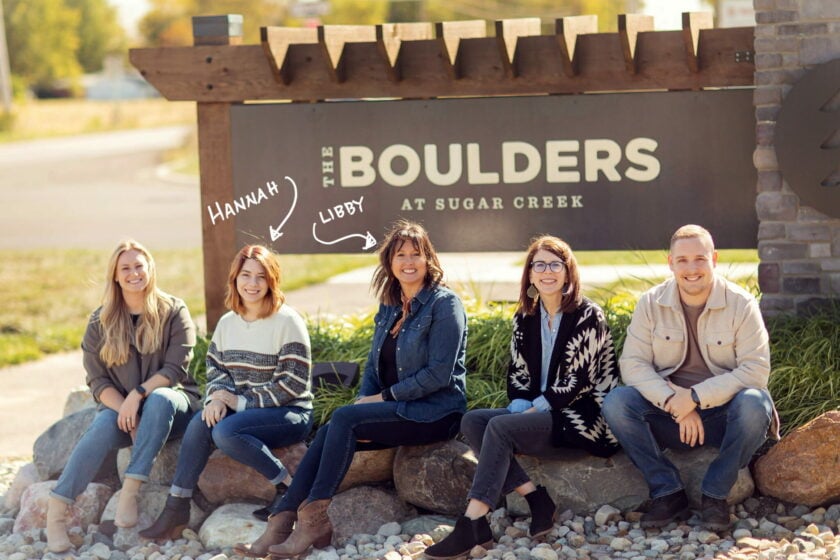 Here we are with another photo of our Design + Architecture Team! I'm going to be posting some more info about each team member so you can get to know a little more about them. Today we'll learn more about Hannah and Libby, who are both Design Specialists!
Hey, I'm Hannah! I was born and raised right here in Greenfield Indiana, where I still live with my wife and our three fur babies. I'm a hopeless romantic, iced coffee addict, and lover of all things retro. I enjoy collecting miniature things and adding to my ever-growing library of books that I swear I will eventually get around to reading. I spend my weekends photographing weddings and cramming as many home renovation and styling projects into my free time as possible. If I'm not in the design studio or third-wheeling it behind a lens, you can find me scouring antique malls and thrift stores (for more décor that we don't need), wandering the aisles of Home Depot (for more houseplants that we don't need), waiting in line at Starbucks (for a Grande Brown Sugar Oatmilk Shaken Espresso), or curled up on the couch binge-watching The Office (again).
LIBBY JONES
While thinking about what to write about myself, I asked myself the question, 'What do I want people to know about me?' That question brought me to the conclusion of what forms who I am as a person. First, my faith in Jesus is a big part of who I am. Without my faith, I truly believe that navigating life would be that much more difficult. Secondly, my two children are my greatest joys here on earth. They made me a mom and I love every aspect of teaching, guiding, praying, listening, growing, supporting, and cheering them on as they grow. Lastly, I'll make this one a little more light-hearted, anyone who knows me well, knows how much I love design. Whether it's re-arranging a room in my home, sharing a creative vision for a friend's space, or creating a digital design to show others the possibilities within their home. There are of course more aspects of who I am, but these are the biggest passions of whom I am.