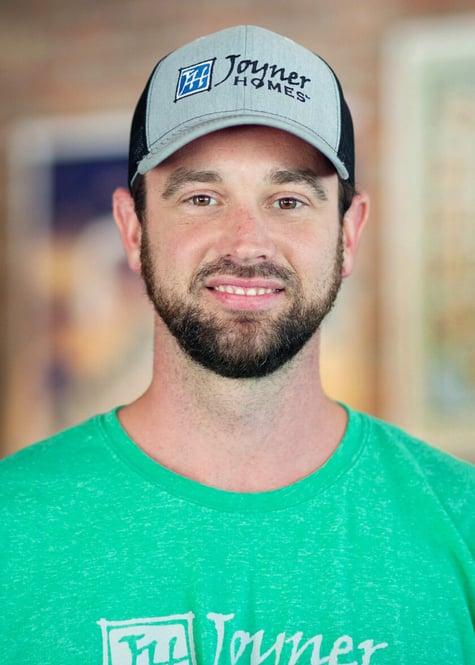 Today I want to introduce you to one of our other Project Managers, Brent Graham. You'll typically find Brent on the job site, making sure everything is in order!
How long have you worked at Joyner Homes?
Since February of 2017
What do you do at JH?
Project Manager – My responsibilities at Joyner Homes are to provide on-site coordination for all phases of the construction process, including coordinating subcontractors, material and equipment, ensuring that specifications are being strictly followed, and work is proceeding on schedule and within budget.
If you could switch jobs with someone in Joyner Homes, who would it be? Why?
Design Specialist, I know their job is difficult, but helping the homeowners put together all of their Selections.
What 3 words would you use to describe Joyner Homes?
Character, Quality, Smart Design
What do you do when you're not at work?
Spend time with family. I have three little ones that I like to spend as much time with when I'm not working.
What random facts can you share with us?
I have been the beneficiary of many random birthday and Christmas gift adventures including helicopter flight lessons, sailboat lessons, FlyBoard lessons, and dragster lessons.
Are you messy or organized?
Organized. Things do not have to be clean but I like them to be organized.
What's your favorite outside activity?
Snow skiing.
If you could change something about today's youth, what would it be? Alternately, what excites you about today's young generation?
They are on their screens too much. They seem to adapt to changing technologies quickly.
What would you tell your 13-year old self?
Don't be afraid to take risks and fail at things.
How do you define success?
Doing what is right, even if it is unpopular.
I hope you are enjoying our member spotlight! I'll continue to trickle through the rest of the team ….. in the meantime, you can see and read more about who we are HERE.
Have your heard about our new community that will be opening soon? Join the VIP List for The Boulders to keep up with new happenings! Contact Emily or Lisa for more info.