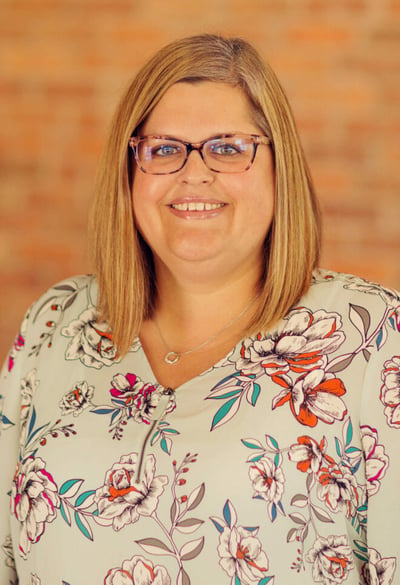 Today I want to introduce you to our Sales and Marketing Manager, Becca Steuer. You'll find Becca in our office downtown, putting out fires or making people laugh. She is a Customer Service Queen, and rocks her job daily.
How long have you worked at Joyner Homes?
It will be 3 years in August.
What do you do at JH?
I manage the sales, design, and marketing teams!
If you could switch jobs with someone in Joyner Homes, who would it be? Why?
Hmm… that's a hard one! I love what I do! I wish I were able to design floor plans, but I just don't have that skill set. So, I guess Tom, but that's the only thing I'd like to switch with him!!
What 3 words would you use to describe Joyner Homes?
Fun, Cool, Inspiring
What do you do when you're not at work?
When I'm not running the kids everywhere, I love to cook, relax, do projects around the house.
What random facts can you share with us?
Hmm… this one stumps me. I'm not super interesting. I showed hogs in high school. I can waterski (well, I could not to long ago at least). See—not too many facts.
Are you messy or organized?
Organized: I used to be way more organized than I am now.
What's your favorite outside activity?
Hanging out in the pool. We have friends with a pool—so not just any pool. ????
If you could change something about today's youth, what would it be? Alternately, what excites you about today's young generation?
I think today's youth gets an unfair bad reputation. If I had to change one thing, I think it would be to convince them that it's ok to start at the bottom. Have roommates. Live with your parents. Start at the bottom and work your way up! That's ok! I was working night audit at a hotel fresh out of college with my Purdue degree. I am excited about how much the new generation cares!! They want to make a difference. They want to be heard. They are inclusive of all different types of people. That is exciting!
What would you tell your 13-year old self?
Oh man… I would tell her that she needs to love herself more and to not get into a long term relationship prior to college!!
How do you define success?
Success is when everything runs like a well oiled machine. Everything is happening, with seemingly little effort (even though effort is being made). People are happy, genuine, and motivated.
I hope you are enjoying our member spotlight! I'll trickle through the entire team in the next several weeks ….. in the meantime, you can see and read more about who we are HERE.